New Filtering and Page Design Changes
(Released August '23)
We are thrilled to introduce exciting updates to our platform that will enhance your content browsing experience and make it easier to navigate for content relevant to you. Our goal is to provide you with a seamless and user-friendly way to engage with Promoboxx Industry Content and the content from your supported brands.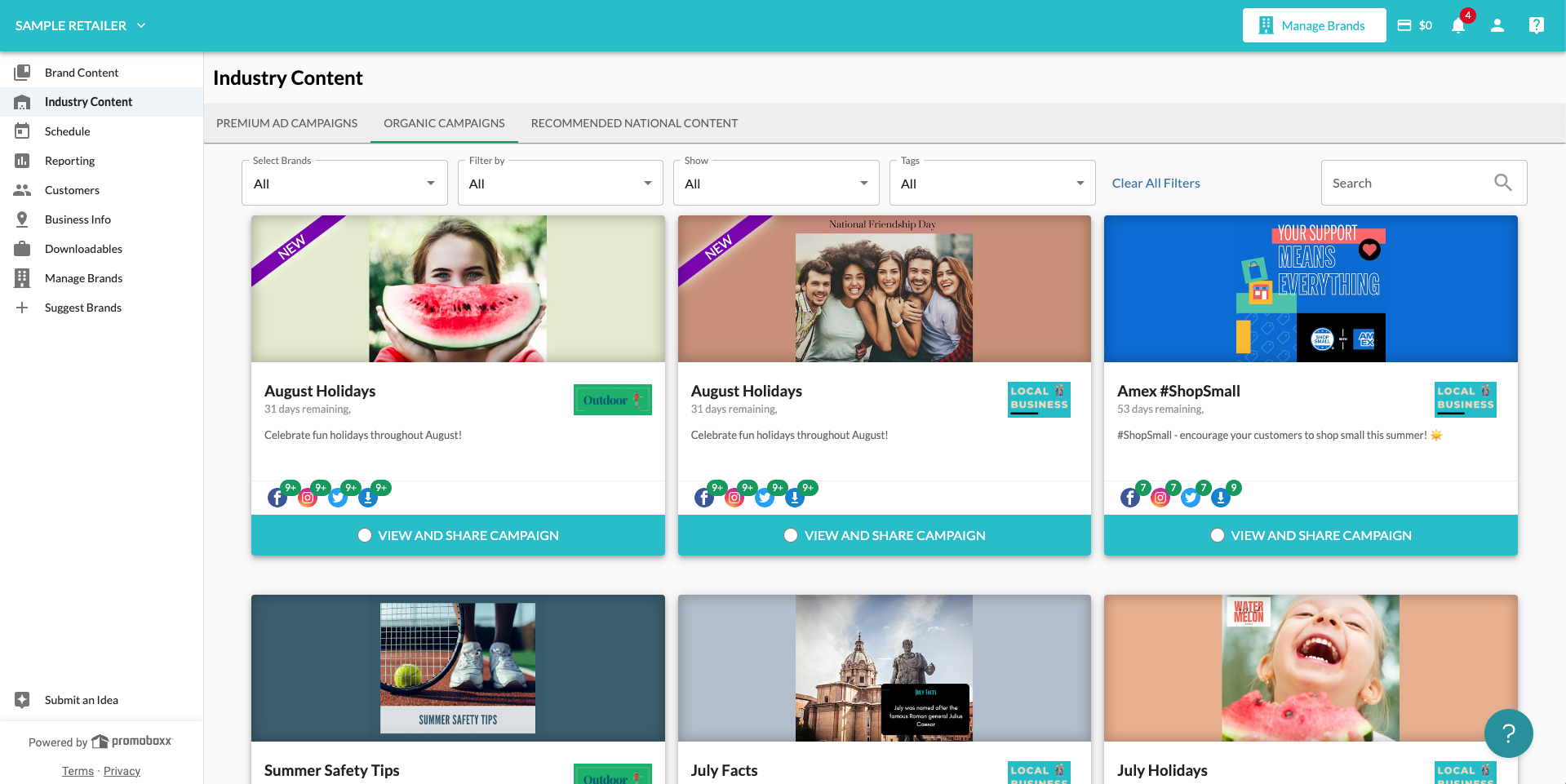 Improved Brand Filtering: We understand how important it is to easily filter content by brand, and we've listened to your feedback. With our enhanced brand filtering system, you can now effortlessly find content from the brand of your choosing. Enjoy a more streamlined interface that allows you to quickly locate and engage with the specific brand content you're looking for.\
Separate Brand Content and Promoboxx Industry Content: To simplify your content browsing, we have split the current "Campaign Content" into two dedicated pages: "Brand Content" and "Industry Content."

"Brand Content" page: This page is exclusively dedicated to showcasing content from your supported brands. Explore all the latest campaigns and promotions from the brands you love, conveniently displayed in one centralized location without having to wade through more generic Promoboxx Industry Content when looking for content from your brands.
"Industry Content" page: Find content from Promoboxx Industry campaigns that cater to your industry as a whole. Stay up-to-date with the latest trends and industry-specific content through this dedicated section.

Easy-to-Navigate "Content" Tabs: We've introduced separate tabs within both the "Brand Content" page and the "Industry Content" page, designed to make your browsing experience smoother and more efficient. Each tab is tailored for specific types of content:

Paid Ad Campaigns: Discover professionally crafted Paid ads to which your brand has devoted their funds to find new consumers for you.
Organic Campaigns: Engage with authentic content from your brands that you can instantly post or schedule to your connected social pages, download designated assets, or email to your customers.
Recommended National Content: Review the feed of shares that your brands have posted to their national social pages and share to your page(s) as desired.
We believe that these changes will significantly improve your ability to access and engage with the content that matters most to you and your customers. At Promoboxx, we are committed to continually improving our platform to better serve your needs.
For any questions or assistance, please reach out to our dedicated support team at support@promoboxx.com
Thank you for being an essential part of our community!