Looking for more social content from the brands you carry in-store? Promoboxx can help!
Navigate to the new "Manage Brands" section from your Promoboxx dashboard to review the brands you work with, request access to brands already available on Promoboxx, or request that a new brand join the Promoboxx community.
Request access to brands that are already active on Promoboxx via the "Discover Brands" tab. Here, you can review brands similar to the ones you already work with on Promoboxx.
Requesting access is easy!
Simply scroll through the list of brands in your industry.
Check off the brands you'd like to access.
Click the "Request Brand" button in the top right.
Enter a brief message noting why you'd like to access this content. Please note this information, along with your store information, will be sent to the brand team so they can review your request.
Click "Request Access" to confirm. You'll see a green confirmation message in the top right. Your request has been sent!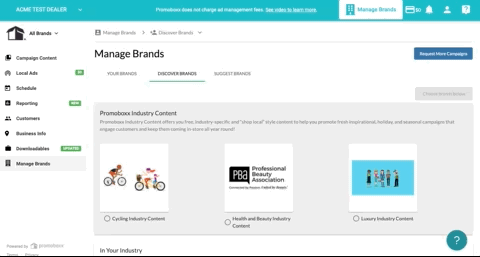 Review pending requests at any time at the bottom of the "Discover Brands" tab. Still have questions? Chat with our team at support@promoboxx.com.