In order to post brand content to your business' Facebook page using Promoboxx, you must enable a set of Facebook "permissions".
Facebook page already connected to Promoboxx? Watch this video on how to change your Permissions.
How to enable your Facebook Permissions:
Click Business Info from the left-hand menu
Select the Social Accounts tab
Click Open Permissions Manager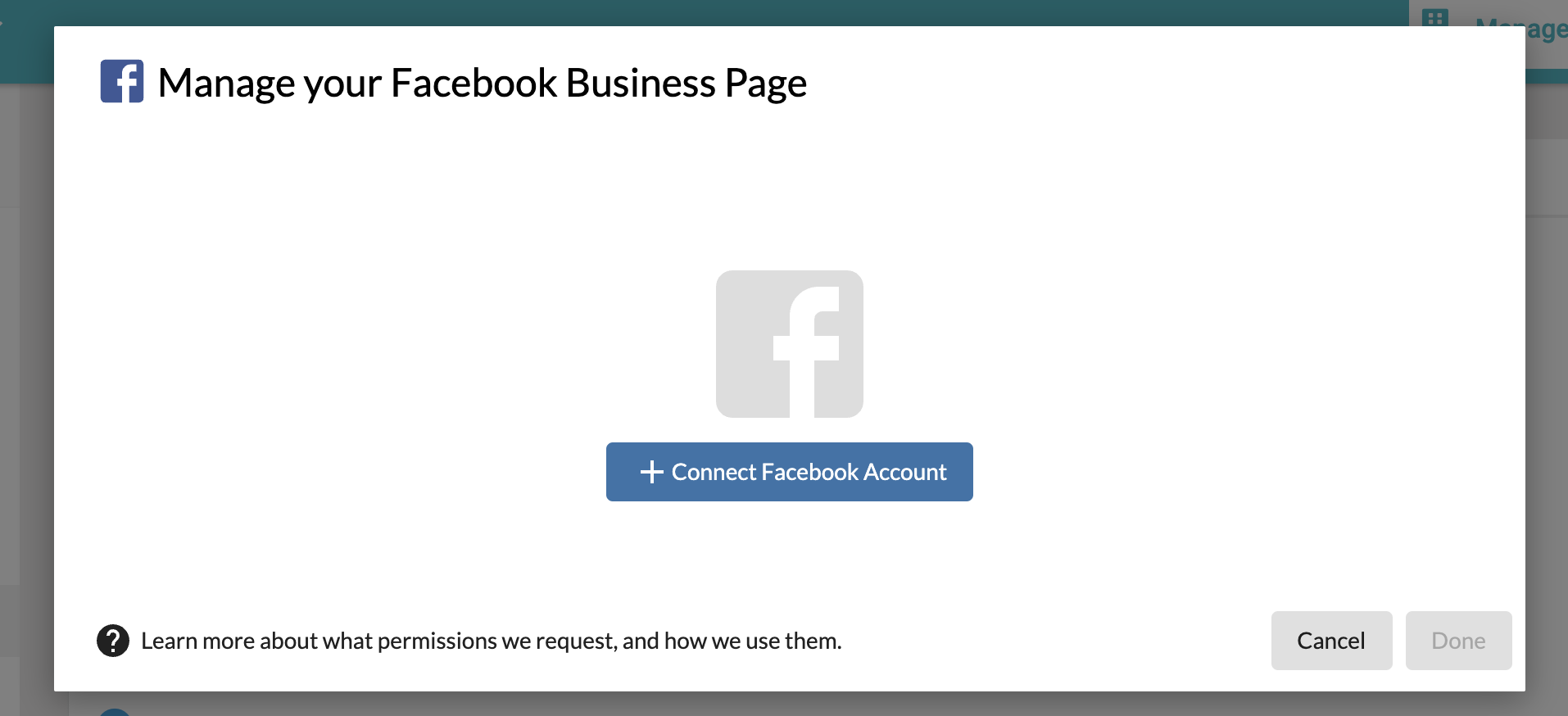 If you haven't connected the admin account yet please do so here by clicking Connect Facebook Account. The user you connect to Promoboxx must be an admin of your business' Facebook page in order to properly integrate with Promoboxx.
Continue as your user: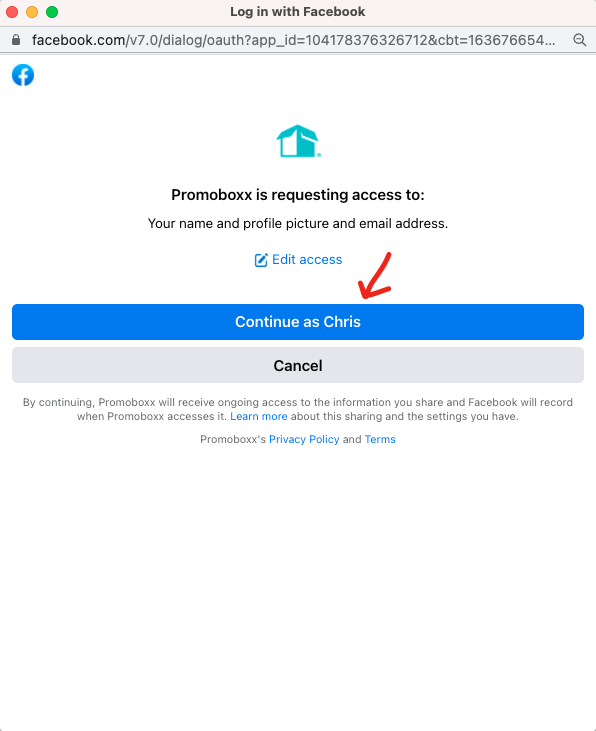 Make sure you enable all permissions in "Choose what you allow" before clicking Continue. These will all be on by default, but making sure every toggle is on and every box checked is the first thing Promoboxx Support does when troubleshooting Facebook issues: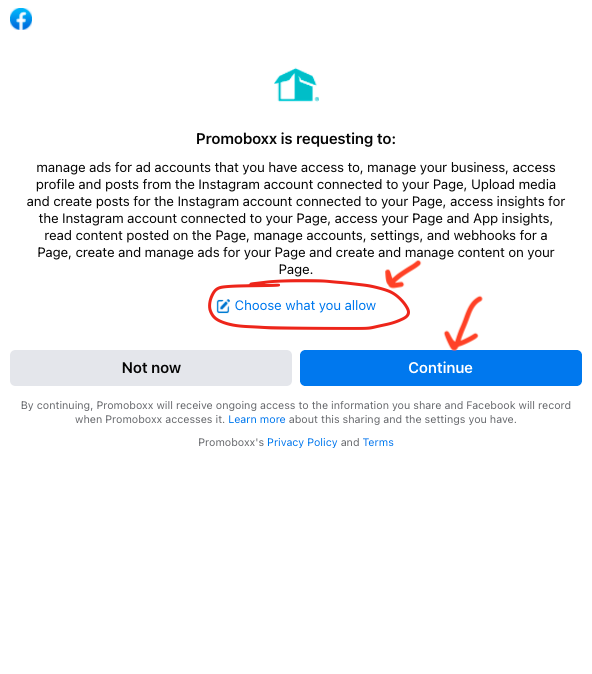 Once permissions are enabled, green check marks will appear: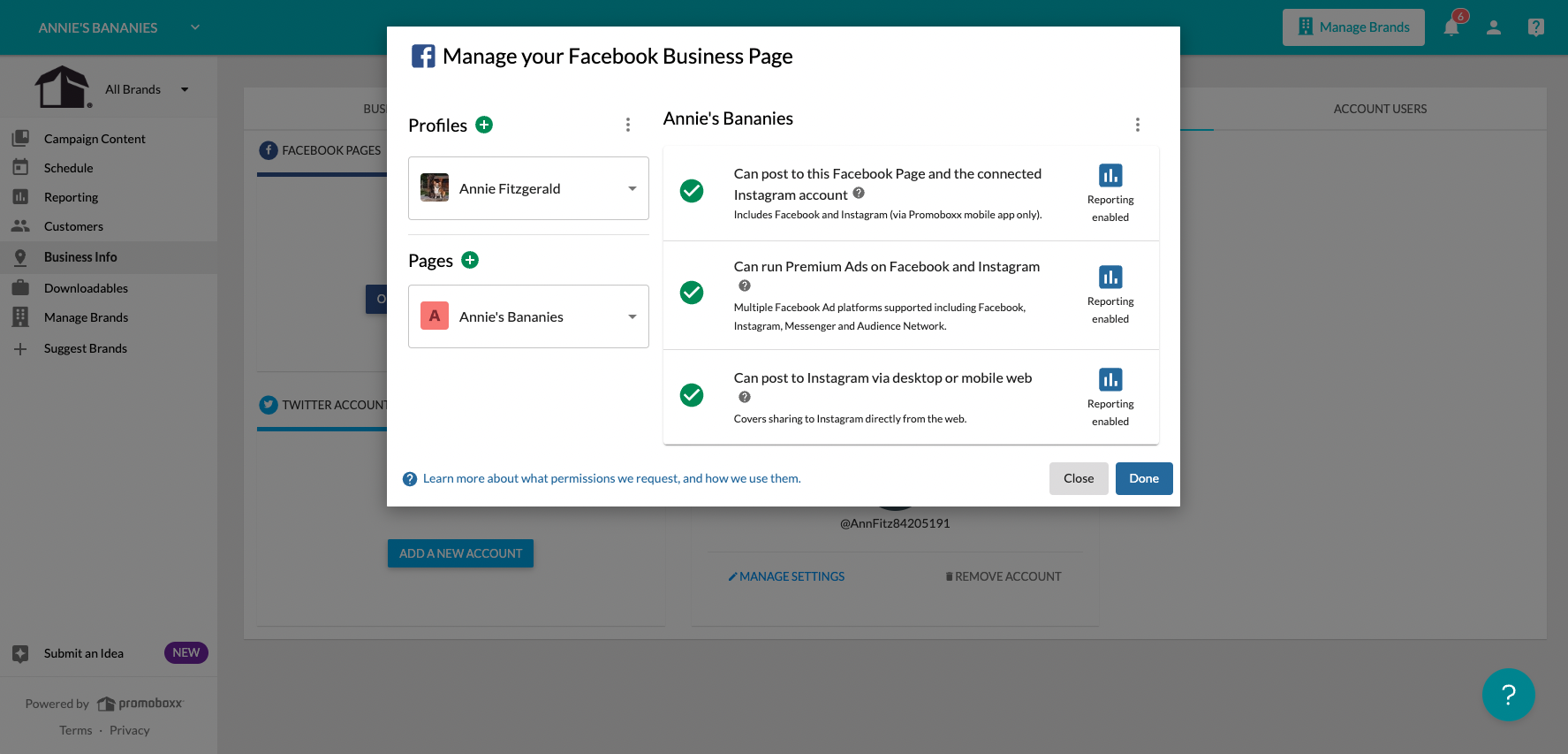 Click Done to finish connecting.
Click Here if you have a red x next to "Can run Paid Ads on Facebook and Instagram"
Click Here if you have a red x next to "Can POST directly to Instagram via desktop or mobile web"
Promoboxx WILL NOT:
Post for anyone who is not listed as the "admin" of a business page on Facebook
Post to your personal Facebook page
Automatically post brand content to your pages (unless you manually enable our automation settings)
Comment or reply to comments or reviews
What Permissions We Request:
| | |
| --- | --- |
| Manage Posts | Allows Promoboxx to manage posts on your Facebook business page on your behalf. |
| Manage Ads | Allows Promoboxx to manage ads on your Facebook business page on your behalf. |
| Manage Metadata | Allows Promoboxx to manage metadata on your Facebook business page on your behalf. |
| Insights | Allows Promoboxx to display reporting data for your Facebook posts. |
| Ads Management | Allows you to use funds to promote content with Facebook Ads. |
| Business Management | Allows Promoboxx to run ads on Facebook on your behalf. |
| Instagram | Allows Promoboxx to read your Instagram business account profile info and media. |
| Publish to Instagram | Allows Promoboxx to publish to your Instagram business account on your behalf. |
| Instagram Insights | Allows Promoboxx to display reporting for your Instagram business account posts. |